We use nothing but our own Yeowww! 100% organically grown catnip in our toys. No fillers or toy grade catnip. Your cat will ask for us by name!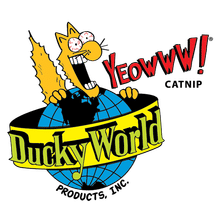 Pet's General Store is proud to carry Ducky World in Lakewood, Ohio. The home of the world-famous catnip toys that have felines across the planet saying "Yeowww!" All of our toys are made in the USA and are 100% stuffed with only the finest, organically grown catnip.
Yeowww! Catnip Toys
Triangles, Sour Puss! Lemon, Apple, Big Baby Cigar, Cigar, Banana, Catnip Pillows, Green & Yellow Fish, Pollock Fish, Hearrrt Attacks, Rainbow, Catnip Sardines, My Cats Balls, Cigar Three Pack Tin
Yeoww! Catnip Holiday Toys
Yeowww!-loween Pumpkin, Stocking, Kris Krinkle, Dreidel Krinkle, Catspurrr The Friendly Ghost, Yeowww!-Tide Candy Cane, Rugular Gift Bundle, Kris Krinkle Bundle, Dreidel Krinkle Bundle, My Cats Balls, "Stinkies" Catnip Sardines
Come visit our pet supply store in Lakewood, OH specializing in quality food, treats, and supplies for cats, dogs, fish, birds, and small animals.