Superior Design Legendary Quality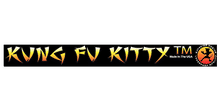 Pet's General Store is proud to carry Kung Fu Kitty in Lakewood, Ohio. After all, your cat can jump great heights, catch small intruders, and stalk each of your ten toes under the covers…all completely undetected! But, all warriors must have a wise master to provide training.
Kung Fu Kitty™ offers several USA made teasers for wise masters who demand high quality toys keeping their feline warrior performing their best. Our flexible cable is engineered to replicate realistic action and motion, while our unique Kung Fu Clip!™ allows easy toy changes when your warrior needs a new foe or for an affordable way to switch up the fun.
Cat Toys
Satin Catnip Fury
Feather Catnip Fury
Peacock Feather Catnip Fury
Catnip Fury Trio
Natural Peacock Feathers
Come visit our pet supply store in Lakewood, OH specializing in quality food, treats, and supplies for cats, dogs, fish, birds, and small animals.