Committed to research and product Development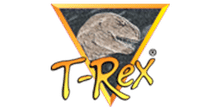 Pet's General Store is proud to carry T-REX PRODUCTS in Lakewood, Ohio. It all started with new product ideas two pet store owners came up with to sell in their store. In 1997, these ideas became T-Rex Products. For more than 20 years, T-Rex Products' mission has been to research, develop, and provide husbandry, welfare, and enrichment solutions for the enhanced captive care of reptiles and amphibians.
Created out of the intense interest of keeping reptiles as pets, T-Rex Products has evolved into a premier supplier of quality reptile foods, supplements, substrates, décor, and accessories. The vision was, and still is, to create a link between T-Rex and the reptile hobbyist, forming a bond similar to the relationship they share with their pets.
Reptile Supplement
T-Rex Anole Supplement
T-Rex Aquarium Decor
T-Rex Aquarium Decor - Rocky Shoals Background
T-Rex Aquarium Decor - Tree Trunk Tropics Background
T-Rex Aquatic Turtle Food
T-Rex Bearded Dragon Food
T-Rex Bearded Dragon Supplement
T-Rex Box Turtle Food
T-Rex Box Turtle Supplement
T-Rex Chameleon Supplement
Come visit our pet supply store in Lakewood, OH specializing in quality food, treats, and supplies for cats, dogs, fish, birds, and small animals.